-skids in a few minutes before November starts- howdy folks. 
No time for chitchat, so here we go. The October happenings in full. Please ignore the fact that I've been a ghost all month. 😛
[the writings]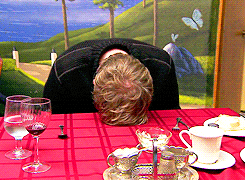 Well, despite my lofty aspirations for this month of getting into my rewrite of Long Lost…. didn't exactly happen. Computer problems and an insane amount of other busy stuff did happen, however. 
So the second draft did not get started. 
But I did get about two and a half little short stories tapped out on my phone and the family computer, so that's about as much as I got. xD Effort was put elsewhere this month.
[the musics]
Probably my favorite music thing of this month is the new album by Banners, because it's totally amazing. Ben Platt did a cover of Vienna. Andrew Peterson also came out with a new album! (Haven't had time to listen through all of that yet, but what I have heard is amazing. <3) As far as my own discoveries… I've been listening to a few more of Hozier's songs, and giving the Paper Kites a try. Also my mom found an amazing song called Angel Island and that's pretty awesome. ❤
[the stories]
books:
The Night Gardener by Jonathan Auxier: this month I actually jumped on board an online book club, and this was one of the books involved for this month! I liked it and it went deeper with the theme than I expected it to. It was kinda spooky, so probably wouldn't recommend for younger guys. And I wish they explained more in the end, but it was pretty good. 
The Wild Places by Robert Macfarlane: Another book club book, involving many beautiful scenery descriptions. Still working my way through this one, but I like it a lot so far. ❤
Wonder by RJ Palacio: Listened to this one partly over audiobooks, and partly my mom reading it out loud. It was amazing and I'd definitely recommend. (Though by how long this has been out, I'm probably behind the times. xD)
The Valley of Fear by Sir Arthur Conan Doyle: An original Sherlock novel I didn't know about. It was awesome. 😀
Matt Fraction's Hawkeye comics: Hellooooo I really love these a lot
movies:
Miss Congeniality: we watched this one for my sister's birthday and I have a new favorite chick flick ❤
Ten Things I Hate About You: Gotta love that highschool drama. Very sketchy/a lot of crude humor, but the interactions between the two leads were amazing. 
Never Been Kissed: Less sketchy highschool drama, and Drew Barrymore playing a sweet lil dork. 
How To Train Your Dragon: The first one. Man. This one is so good.
The Good Dinosaur: Man. This one was not good. 
Now You See Me: I like it all, with the exception of Woody Harrelson being a creep, and that twist at the end… could have been done a lot better. Other than that, super cool movie. 
Veggietales Jonah: After many years of watching this for Yom Kippur and reading the book of Jonah, I've finally decided that I think Mr. Lunt would make a better Jonah. (Come on, can't you just see him throwing a wingding fit over a plant dying? No stretch of the imagination there.)
shows:
The Great British Baking Show: I'm officially not a fan of the new hosts, but it's still such a fun setup for a cooking competition… hard to complain too much. xD
Lost: We're on to season 5 now… a.k.a. the season I've only heard bad things about. And so far?
I'm actually really enjoying this season a lot so far, so… yeah, very pleasantly surprised. xD
[the cookings]
Haven't had a ton of time to do cooking experiments, but I've made caramel. -fingerguns-
Also I helped mom make chilequiles for dinner, so that was fun too. 
[the funnies]
[the life things]
Well, as of this month, I am officially back on at OYAN as a mentor to the young ones! So yeah I'm super excited about that and it makes me happy. ❤ It's wonderful to see everyone again and be back to where I can interact and be involved in discussions and read everyone's novels and… yeah, I'm happy. ❤
We celebrated two birthdays pretty quickly off the bat at the beginning of this month. My sister's birthday and then an earlier celebration of my youngest brother's birthday. Both very fun. Excellent choices of food and movies were made. 
Biggest event of this month: taking a road trip across Colorado to see friends and camp out for Sukkot! It was super fun and we saw a lot of beautiful mountains and red rocks and had a lot of quality time with awesome peeps. 
I started my new job at the bakery in town! It's going really well so far. I've met some really nice coworkers, the job is easy and fun, and I get to come home smelling like cake, so it's hard to lose. xD
Also faaaaall has finallyyyy arrived. ❤ The leaves around here are gorgeous and were definitely worth the wait. (Though October was definitely overcompensating a bit by snowing last night but honestly I'm not complaining.)
Lastly, by way of explanation for my absence/lack of writing, this month has been an absolute circus of trying to work out my laptop situation. I got a new/secondhand laptop early on this month to replace my cranky old one that kept crashing on me. And then as we took off for our trip, the new laptop decided to have a hard drive failure, and I just got that fixed. So. I'm now re-computered. But it just took a while. Hopefully there won't be too many more issues. xD
[up next]
My grandparents are visiting and we're all super excited for that around here ❤ So that should be fun. 
More work at the bakery! Also we shall see how my applying for a second part-time job at a coffee shop in town goes. -crosses fingers-
Aaaand finally getting around to my rewrite. I'm not going all gung-ho for the Nanowrimo thing, but I'm definitely gonna use it as motivation to get as much done on this as I can. xD
And that was my month!
How was your October? Do anything fun this month? Are you doing Nanowrimo?
See you guys around!
~writefury